Last week, Team Seenit attended the Telegraphs' D.E.N Live to hear & add to discussions around digital disruptions & transformations that impact a plethora of industries.
CIOs, CTO, & CEO's (👋) from the Prince's Trust, Airbnb, Made.com, Lloyds Banking Group_, & more shared their perspective on recent digital change_s.
The team learnt a lot across the two days. Here are some of the most interesting things Seenit's Kathryn, James, Emily (Chappell) picked up from the conference, & a nod to what I shared in my seminar.
The Seenit X D.E.N Video here provides a taste of the event
Team Seenit's Key Takings
Kathryn found The Prince's Trust's David Ivell super optimistic.
"There's exciting potential of technology and innovation to transform the engagement, relationship and journey of the young people at the Prince's Trust, and to share their stories"
Kathryn loved his focus on the community and human elements to support each other, and those in need. Additionally, it was amazing to hear how much David realises the significance of technology in actioning modern support networks. Case in point, The Prince's Trust use a plethora uses several technologies to communicate with, teach, and support youth. Team Seenit had a great chat with David too. It was so glad to connect over our shared values of community & tech for good- something we action through Seenit World.
Seenit's James Falconer found talks from the travel sector particularly riveting.
James McClure, of Airbnb, had two valuable points:
"The danger is that you say 'the community' as if it was one person but you need to be aware that within the community is a large variety of different people. How can you provide different engagement for different people?"
He added, "Travel isn't far from an everyday process. It's important to have a reason to be talking to people, you've got to make sure that your communication to your community is useful. How can you inspire that feeling of travel in what you communicate?"
It's true, "community" seems to be all the buzz at the moment & used in a catch-all way; its' wide & frequent use makes its application questionable – who can justifiably say they have knowledge on dealing with or making communities? Can they tap into community & appeal to individuals difference?
Community & communication was something that I touched upon in my talk too. Learning a lot in my 3 years at Seenit, I've noticed strong themes in community generated content & know that most companies can leverage these types of marketing & communications to their benefit.
James Falconer also noted down Andrew Isenman's, Heathrow head of innovation, emphasis on people.
"It's not about changing the people within your business or organisation, but about bringing out the skills that those people have, tapping into the skills already possessed by your workforce"
On a similar note, Seenit's Emily Chappell took this from Don Langford's (Virgin Atlantic) talk,
"I might be a technology innovation guy but I am going to talk about people first"
A shift to customer centric mentalities applied not only to customers but employees too, had to be Team Seenit's biggest takeaway. As a company in the video tech space with a large portion of our work in internal comms, this was a great affirmation of what Team Seenit has been recognising. We know that our product and the videos that are produced using it, reach their greatest potential when the clients take time to nurture their people/employees. It's empowering to both encourage people to film and then see how they inspire others to video too.
It seems changing business culture around digital is about "championing skills and allowing people to be creative" (Andrew Isenman) & we're happy to be one of the tools helping to facilitate that.
The Connect Customer Seminar
I was invited by D.E.N to add ideas around "The Connected Customer". Considering the accelerating application & popularity of user generated content I thought best to take this on & talk about "Power of community storytelling & how to take your First Steps".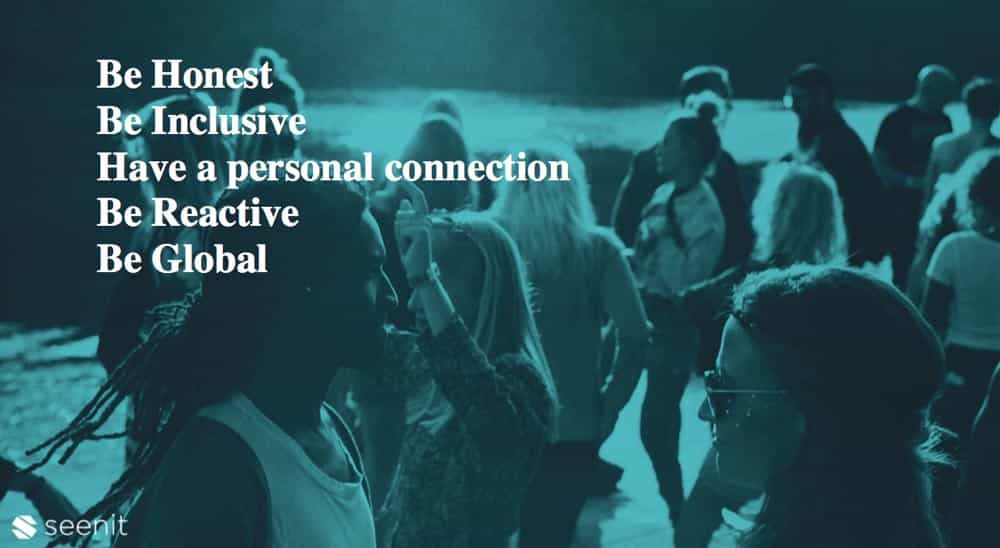 I emphasised 5 key points in community storytelling that can inspire, teach, & market. They are: Be Honest, Be Inclusive, Have a Personal Connection & Be Reactive – which are all explained in more detail on our blog.
We had a great time at D.E.N & really want to shout out their team for making the day run smoothly & for championing our tech to make some really great event highlights.