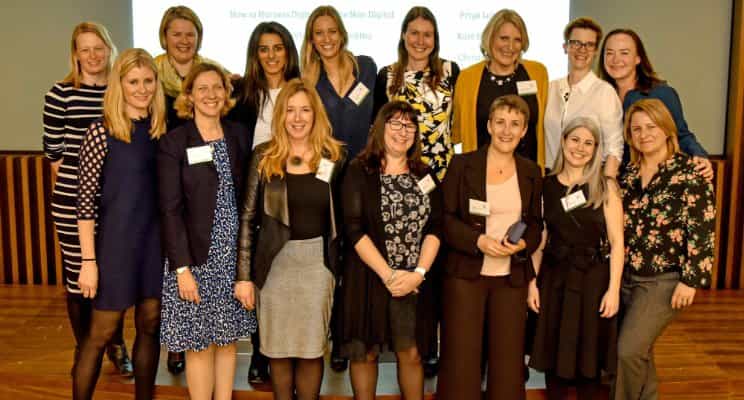 We're delighted to announce that last night our founder and CEO Emily Forbes was one of the winners at the 10 Digital Ladies Awards, sponsored by EY.
What are the 10 Digital Ladies Awards?
10 Digital Ladies is a networking movement run by co-founders Laila Edy, Nina Lovelace, Sally Foote, Lucia Adams, Juliet Bauer. Together, they aim to improve the visibility of, and connections between, women within the digital sector. They have come together to provide inspiration, support, and practical advice through small expert networks. From informal support to networking meetings, 10 Digital Ladies provides a network for women to discuss issues and learn, ensuring that they have a chance to fulfil their full potential in their careers.
The awards launched this year, and they "celebrate women in digital who have defined and achieved their own vision of career success in less traditional ways, whom we think are excellent, inspirational role models," says Nina Lovelace, 10 Digital Ladies co-founder.
Who are the winners?
The 10 winners included Christina Scott, CTO at News UK, Lindsay Ratcliffe, Director of Customer Experience at HomeServe, Priya Lakhani, Founder CEO at CENTURY Tech, Bénédicte Autret, Head of Strategic Relationships for News & Publishers in the UK & Benelux at Google, Kate Bradshaw, VP Digital Strategy for the international division of Scripps Networks Interactive, Zoe Cunningham, Managing Director of Softwire and film & theatre actor, Claudia Arney, Non-Executive Director for Aviva, Halfords, Derwent London & The Premier League, and Amanda Neylon, Programme Director for Digital Delivery, NHS Digital.
If you weren't able to make the awards, check out this post from one of the founders of 10 Digital ladies which discusses the 10 inspiring things that she learned from the 10 Digital Ladies award winners.
If you are a woman in tech, check out 10 Digital Ladies. They are running monthly networking events throughout 2017, each featuring one of the winners as a keynote speaker. To go to future events, be sure to Sign Up.