Background 💡
When the UK government announced the country would go into lockdown, overnight the beauty industry ground to a halt. This had a huge negative impact on the Beautystack community.
Four months on, the government began to announce plans to reopen the economy, with the beauty industry a glaring omission. As hairdressers, pubs, bars, restaurants, and the like began to reopen, the beauty community was still unable to work.
In response, Beautystack launched a #BringBeautyBack campaign, where they asked their community for help to create a film to show the world the impact that Covid-19 has had on the beauty professional community.
Using Seenit, the UK beauty community could share their story with the world and let their clients, the government, and fellow professionals know that they're ready to work.
'We wanted to make a video to reassure clients, to show the government that we are Covid-19 secure, and to show the whole industry that we are ready and able to work' explains Sharmadean Reid, Beautystack's founder.
Call out 👋
Engaging with their community of almost 500,000 beauty professionals, Beautystack created a story using Seenit Stellar and loading in their questions. Each beauty pro with questions to answer when filming and a welcome introduction video from Sharmadean.
The beauty community were able to share their experience and have their voice heard by filming on their phones and uploading with just a tap through Seenit Stellar.
From tapping a link in a DM to swiping up on an insta story, the simple link was able to reach a community of over half a million beauty professionals, many of whom were unable to work, and in turn, grab the attention of MPs and the press.
Timelines ⏱
Using Instagram as the primary channel to gain awareness and crowdsource uploads, the first call out posts went live on the 3rd July across Beautystack and Sharmadan Reid's profiles. Stories with a 'swipe up to contribute call to action' were also posted, and shared by Beautystackgang to their following of 440,000 followers, alongside numerous other beauty pros with a story to tell.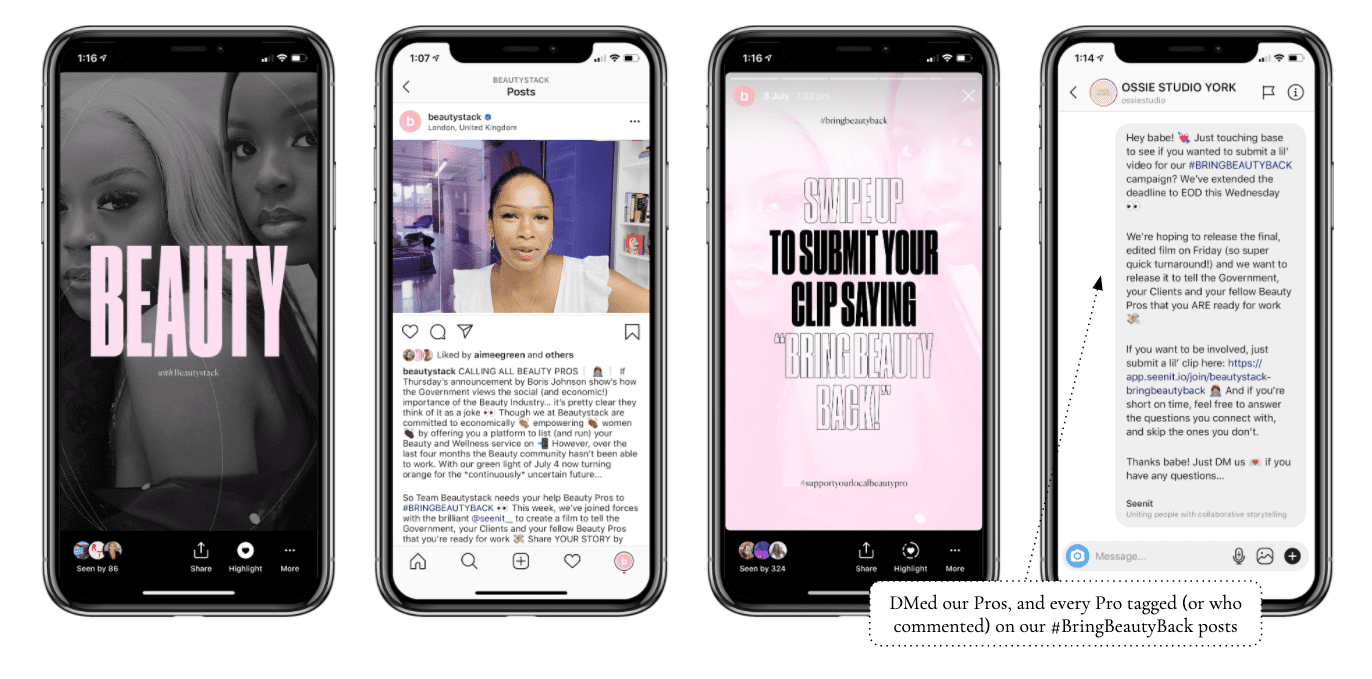 The call to arms was made. And the beauty community listened.
Contributions 🎬
In under a week, contributions came flooding in from Beauty professionals across the country, sharing their story. From struggles with their mental health to sharing the financial burden lockdown had brought, the beauty community were given a platform to have their voice heard. A platform to share their story worth telling. With bars, pubs, hairdressers and the like opening up, the beauty industry felt let down, undervalued, and under appreciated.
Final output 🥁
Edited by the Seenit team, the final video was published using the incredible uploads from the Beautystack community. To learn how this was all achieved in less than a week, Chat To A Video Expert.
Results 📊
The final video was posted to @Beautystack, @Sharmadeanreid, Beautystackgang, and shared by numerous contributors and passionate beauty professionals.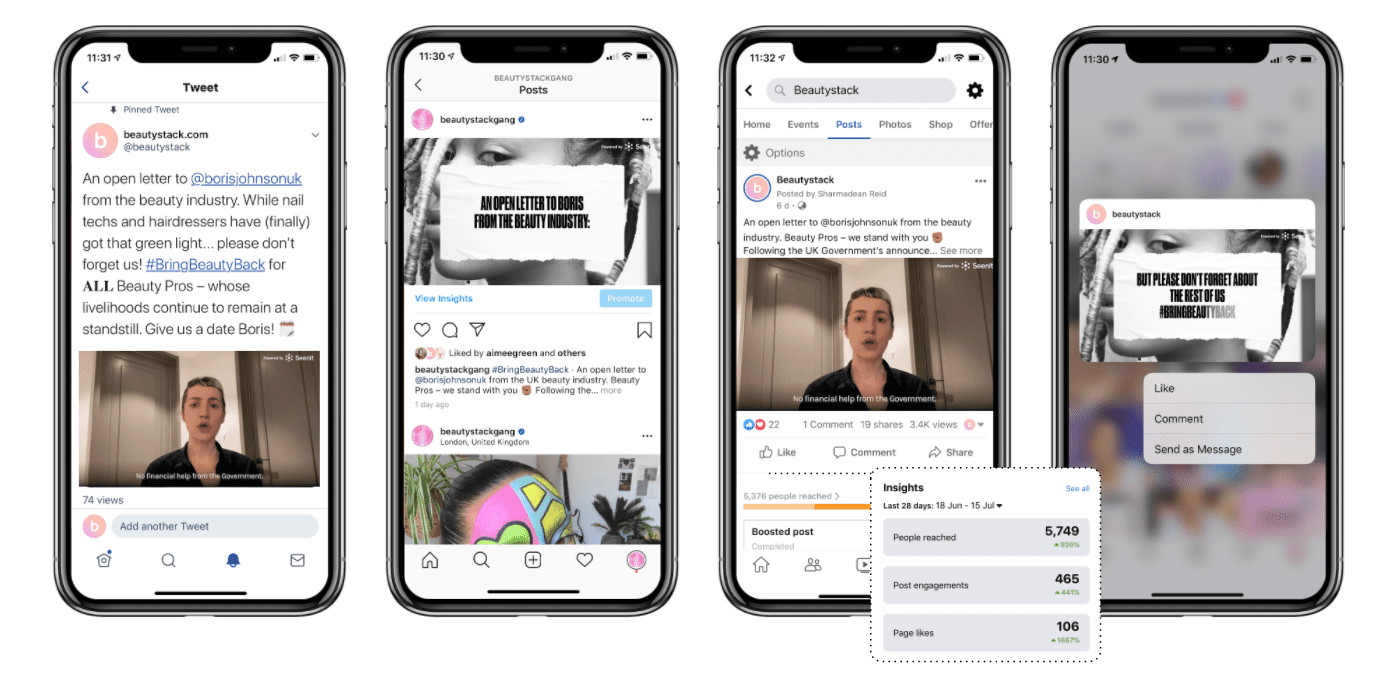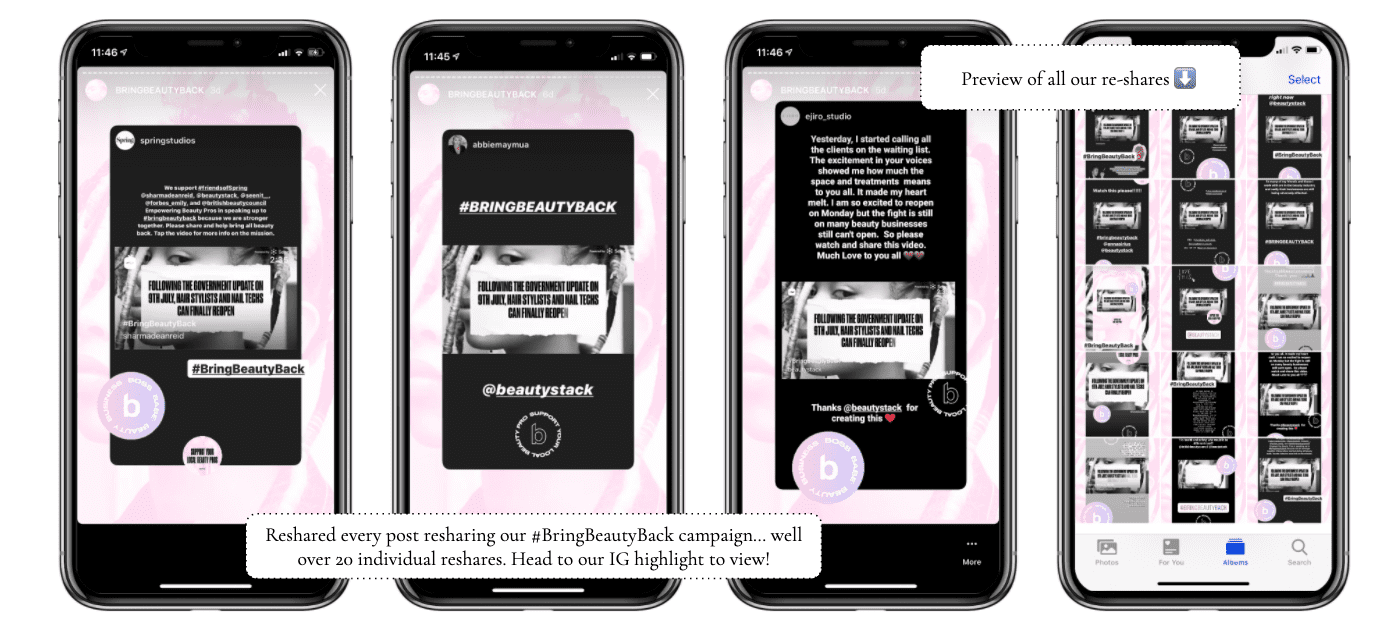 Press 🗞
Press coverage followed with articles appearing from the likes of Stylist, Grazia, and Vogue.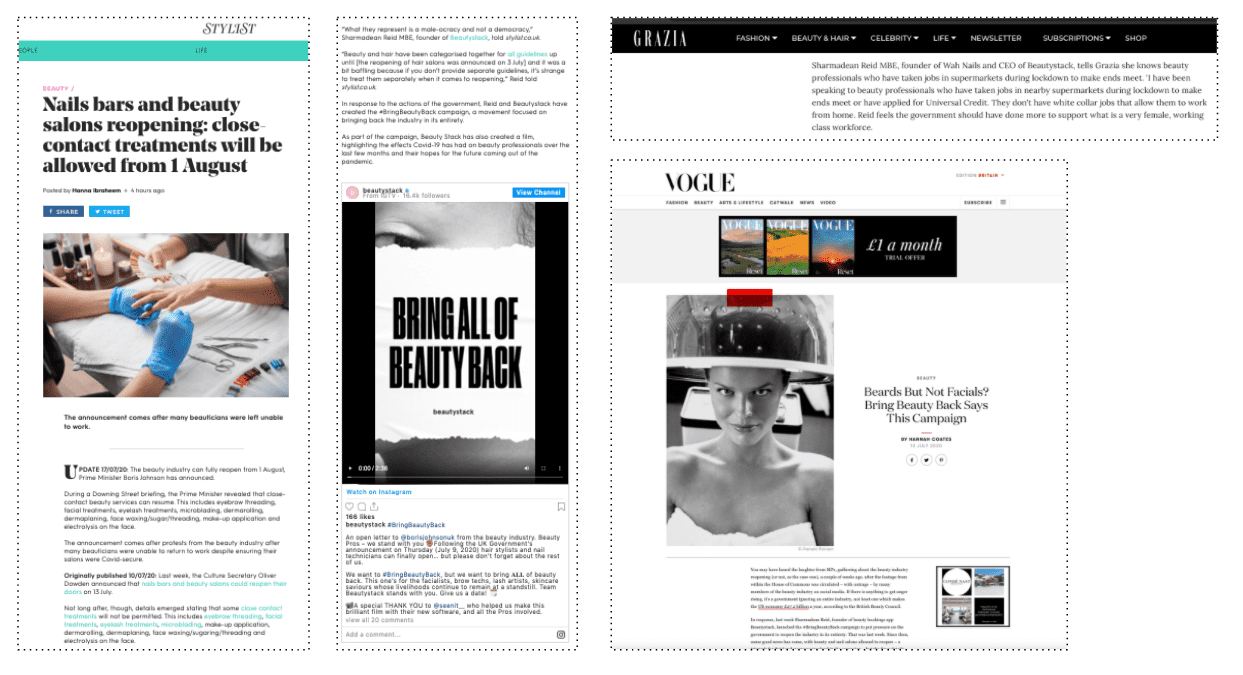 What's next? 👀
Out of the #BringBeautyBack project, Beautystack has built a small, highly engaged community of followers. A group of followers that wanted to have their say, that had a story to tell.
People-powered video gave them a level of engagement that hadn't seen before. It gave them an opportunity to create genuinely engaging, remarkable content with their community.
We're working with Beautystack to help them tell more stories with their community.