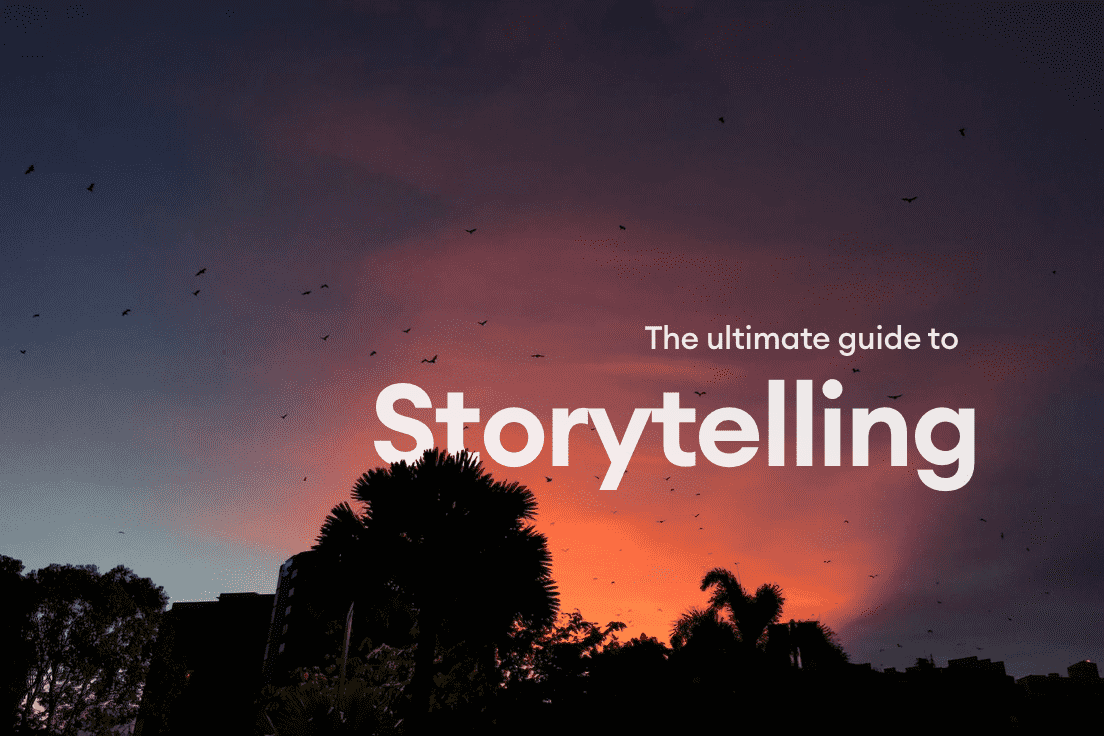 The oldest of all the arts, storytelling is in our DNA. For over 20,000 years, humans have been telling stories - many of which have been carried through generations and have shaped our understanding of human history.
Whether written or spoken, it's clear that storytelling is one of the fundamental building blocks of human communication and the most powerful way of delivering a message.
In business, storytelling can elevate a brand and lay the foundations for long-term loyalty.
In the 2012 book Lead with a Story, author Paul Smith notes that facts shared within stories are 20x more likely to be remembered. This is because stories go beyond the key points of a message. They connect the dots of raw data through a human narrative; they seek to involve the audience by inviting them to feel the emotions behind the facts.
As leadership consultant Karen Eber explains in her TEDx Talk the concept of neural coupling, and the unique power of storytelling in involving the audience:
"As the listener, your brain will light up exactly as mine does as the storyteller. It mirrors this activity as if you are actually experiencing these things. Storytelling gives you this artificial reality - if I talk to you about walking through the snow and with each step the snow is crunching under my shoes and big wet flakes are falling on my cheeks, your brains are now lighting up as if you are walking through the snow and experiencing these things. It's why you can sit in an action movie and not be moving but your heart is racing as if you are the star on the screen."
It's this unique response that makes storytelling the most powerful tool a business has in its arsenal.
So, why tell stories?
Stories are an essential way of communicating your brand.
From pitching to product launch; from marketing to recruitment; from communications to culture, storytelling is already taking place throughout your business.
These stories answer that all-important question of 'why':
Why should a customer choose your product or service?
Why should a talented professional choose to work for you?
Why should an investor put funding behind your business?
The stories you tell should identify the reasons that motivate these decisions. They should communicate the unique value your brand has to offer and help your business to stand out in a crowded space.
Stories help you get your message across in a memorable way.
In a business world dominated by data, effective storytelling cuts through the noise; it gets to the core of the message and connects people to the truth behind the numbers. What's more likely to stick in their minds: a series of stats or a story that showcases real-life experiences that they can relate to? Authentic stories speak louder than data could ever.
The art of storytelling is a way of evoking emotions in another person which then leads to action.
Storytelling is a cognitive experience that evokes empathy and strengthens our understanding of the world around us. In a business context, powerful stories succeed in striking engagement because they bring the audience into the vision of the organisation. We know for a fact that people trust people, and it's the emotional connection formed through storytelling that inspires us to take action - be it a purchase or a job application.
How to tell impactful stories
From fireside folk tales to weekly podcasts, people crave stories that speak to them. That's because stories are capable of communicating a message in a way that rudimentary facts simply can not. Instead of merely laying out the logic, stories weave in the human emotions that bring it to life. In fact, being told a story even changes the way our brains work.
Providing some evidence for this theory, brain scans show that when you hear a fact, two parts of your brain light up. When you hear a story, seven areas of your brain are activated. It's for this reason that, the more people read fiction, the easier it is for them to empathise with others. Emotions, and not logic, are the driving force behind most decisions.
The same goes in business: the more relatable stories you tell, the more your audience can empathise with your brand.
But what makes for an impactful story that your audience will engage with?
Generally speaking, there are four key principles that make for a compelling story. If your story is to resonate with its intended audience, it should do all of the following:
Be human
The best stories are those we can relate to, those that move us and evoke empathy. We can all aspire to the effortlessly cool aesthetic captured in highly-polished ad campaigns, or be impressed by a data-heavy presentation about business growth - but this medium doesn't do much in the way of building trust. Rather, it's the ability of leaders to be vulnerable, be humble and seek out personal stories to include in their corporate storytelling that inspire action from their audience. When people can see themselves in a story, they are more inclined to trust the storyteller for having the guts to show their imperfections.
Educate
Consumers seek more than just a product-focused sales pitch - they want to know why your product or service is worth purchasing. Storytelling is the perfect tool for communicating the problem that your product is trying to solve. If used in the right way, it can educate your audience on the underlying purpose of your business. Beyond marketing, storytelling is a powerful tool that can help to rally your audience around a particular cause.
Customers and employees alike look to leaders in business to be pioneers in societal change; they expect them to use their position to inspire positive change. The stories you tell shouldn't shy away from the uncomfortable topics - they should cast the spotlight right at them. By building a network of ambassadors from the people in your community who are closest to a particular social cause, you put your brand in a prime position to educate the public on an important issue.
Inspire
Every good story has a beginning, a middle and an end. When done well, the foundations for an impactful ending will already have been laid through the body of inspirational story. In most cases, these stories are people-driven - after all, people trust people more than they trust brands. What's more, people feel inspired when they can relate to the storyteller.
Find the people in your community who are brave enough to speak up and turn the focus to the extraordinary things these ordinary people have achieved. Come the crescendo, your audience will feel inspired and empowered to take action because your story has served as proof that anyone can make a difference.
Be inclusive
The more perspectives represented in your corporate storytelling, the more opportunity you have to educate your audience on the importance of diversity and inclusion. For too long, voices of minorities have been overshadowed and painfully underrepresented. Impactful stories make an active effort to make the invisible visible; they seek not only to normalise diversity but to build a mutual understanding and go forward with respect and appreciation.
Storytelling for Diversity and Inclusion
It's a well known fact that organisations who champion diversity and inclusion outperform their non-diverse counterparts. While diversity is about hiring talent from a broad range of backgrounds and beliefs, inclusion is about creating a fair and safe environment where people feel comfortable being their true selves. Only then can they show their true potential.
Achieving and, perhaps more importantly, maintaining this culture, demands an on-going commitment from leaders to listen to the voices of people within their communities who identify as belonging to a minority group. Storytelling is a tool that, if used in the right way, can demonstrate the importance of diversity and inclusion - not just in business, but in society as a whole.
"Many stories matter. Stories have been used to dispossess and to malign. But stories can also be used to empower, and to humanize. Stories can break the dignity of a people. But stories can also repair that broken dignity."
But it isn't enough to produce a video of non-diverse leaders simply stating its importance.
Of course, showcasing and championing the diversity of leadership teams (if it's the case) is critical for setting good examples - but a top-down ONLY approach won't do the trick. It's also worth noting that stories are much more impactful if they are told by people who have lived these experiences. For example, Amazon recently bolstered its executive diversity by appointing their first black woman to the senior leadership team in 2019. These are the stories that empower and inspire people.
In a time of such division, companies cannot afford to pay lip service to something this seismic in scale. Promoting inclusion requires a deep-rooted commitment to listening to the stories of the people in your organisation. It requires leaders to work collaboratively with a diverse cross-section of employees to ensure these stories are heard, captured and shared.
As a company, you should be proud of projects that celebrate religious holidays, LGBTQ+ events or cultural diversity. Campaigns created for events such as International Women's Day or Black History Month matter; they are a giant leap in the right direction as they celebrate voices that were once silenced.
However, you must never lose sight of the fact that the most knowledgeable and passionate people on these subjects are the ones who represent the communities and ideologies you are celebrating in the first place. In other words, if you want to tell the world about your inclusive company culture, let your people do the talking - whatever their age, ability, race, background, beliefs, gender or sexual orientation.
Inclusive organisations go further to champion such causes; they seek to normalise speaking about uncomfortable subjects by giving diverse employees a platform to share their perspectives and experiences.
As far as mediums go, UGV is uniquely placed to champion storytelling for diversity and inclusion. The narrative of the story shouldn't be strictly positive and should certainly not seek to avoid addressing difficult or upsetting subjects.
On the contrary, this medium seeks to amplify the voices of those who have faced prejudice and whose struggles have historically not been given the attention they deserve. Without the pressure of the professional crews, your people have a platform via their own smartphone to speak up about injustices and share their experiences with the world.
At Seenit, we have always championed user-generated content as a way of reflecting an organisation's true heart - and we aren't the only ones. Finally, leaders across the world are listening to their employees and ensuring their voices are heard - but the momentum mustn't stop here.
Through UGV, we have an opportunity to elevate the voices of the unheard and make the uncomfortable comfortable and relatabel. Through impactful storytelling, we can make a sustained effort to educate our communities, normalise diversity and inspire inclusion at every level of business.
Storytelling for social impact and CSR
Now more than ever, business leaders must be able to demonstrate to their audiences that they are genuine, trustworthy and dedicated in delivering social good. It's hardly surprising to hear that a sizable 40% of consumers today seek purposeful brands and trust in brands to act in the best interests of society. In response, a growing number of businesses across the globe are linking their brand with a social impact initiative, partially in response to COVID-19 and consumer pressures to play an integral role in recovery.
So far, storytelling through user-generate video has proven immensely powerful in showcasing such CSR initiatives in a way that doesn't feel forced, scripted or rehearsed. On the contrary, user-generated content helps you tell authentic human stories in impactful ways, amplify the voices of those unheard, drive awareness and foster education to create positive change.
We've seen a rise in brands taking to this medium to tell stories through the eyes of those most passionate about the matter at hand. London start-up Beautystack are a great example of this. In 2020, they launched a #BringBeautyBack video campaign where they asked their community of beauty professionals to film themselves speaking about the impact COVID-19 had on them. Using Seenit, the UK beauty community were able to share their unique stories with the world and let everyone from their clients and fellow professionals to the government that they were ready to work.
Meanwhile, entertainment company ViacomCBS set the bar high for CSR, taking advantage of UGV during a time where physical events were off the table. Every year, the company hosts a yearly event called Viacommunity Day aimed at bringing their global employees together to volunteer for local communities across the world and have a positive impact on the people and areas where they live. In 2020, ViacomCBS celebrated their 24th Viacommunity Day remotely.
Nevertheless, the event was a great success; employees from 24 offices and regions came together to achieve 10,000 hours of virtual good and engaged over 100 organisations in the process. Finally, these powerful and unique stories were edited and woven together to create an inspiring compilation of user generated videos. The result? An impactful story that showcased employees connecting with and doing good for the causes close to their hearts.
Storytelling meets UGV
Effective storytelling gets to the heart of a subject matter; it doesn't just inform, but rather, it inspires an audience to take action by making the information relatable, relevant and memorable.
User-Generated Video (UGV) elevates a story by allowing people to share their own experiences in a way that is unique to themn. It gives your people the opportunity to tell the story from their perspective. When edited together into a compilation, the result is a collaborative and highly inclusive piece of content that amplifies voices from throughout your community.
Crowdsourcing a story through UGV
User-generated video opens the doors to the creation of a truly inclusive global story - one that would be difficult to achieve with traditional production.
Not only that but crowdsourcing your story enables you to reduce your carbon footprint. Rather than flying crews around the world, you lessen the pollution to our planet by giving people the tools to create content from wherever they are in the world.
Add a global pandemic to the mix and it's easy to see why UGV has surged in popularity. When travelling turned into something we did on a needs-must basis, traditional video production became a challenge.
In response to the restrictions, pioneering brands turned to UGV as a means of overcoming the hurdles placed by a health crisis.
What they found was vast potential: instead of a heavily-polished, over-produced advert, they could take advantage of this medium to amplify the voices within their community and tell a truly impactful story. This can be seen in the wave of TV commercials championing the key workers and staff that have kept the country moving in difficult circumstances. These videos aren't just telling us the story - they are giving their people the creative tools to show their experiences to the world.
What's more, UGV allows brands to achieve engagement at a fraction of the cost of traditional video production.
Rather than taking several months just to plan a campaign, UGV provided brands with the opportunity to be responsive to the rapidly-changing topics of discussion by telling stories at the right place and the right time.
Take #ClapForOurCarers as an example. On 26th March at 8pm, households across the UK took to the streets to applaud all those at the forefront of the fight against COVID-19. We asked our community to take part in the applause and use their phones to capture the moment. Despite the short notice, we got a total of 100 uploads from over 50 people across London and beyond.
Of course, that isn't to say there isn't a place for traditional video content - there absolutely is.
However, these stories will ultimately serve a different purpose than those told through the lens of a smart-phone by the people at the heart of a business - whether that's fans, employees or customers.
Unable to lean on in-person meetings and physical events, brands are discovering the potential of UGV in maintaining that all-important human connection in their business. Increasingly, they are realising that storytelling via user generated video can be the powerful tool they need to cross the barrier between the personal and professional.
At Seenit, video was undoubtedly the primary way that we kept in touch with each other, and apparently, we weren't alone. According to a recent survey, 70% of businesses said they created more videos than ever in 2020. On that note, we saw more content than ever being created using our platform. Altogether, we had 15,496 contributors this year, 58% more than last year. 75,040 uploads were collected (a 13% increase), and 1,757 stories were run.
Considering over 4 billion people own a smartphone, brands are now in a prime position to encourage members of their community to become storytellers and share their experiences via user-generated video.
A new chapter in storytelling
During times of change and uncertainty, leaders must be able to drop the jargon and build trust by being transparent. Fortunately, thanks to advances in modern technology, every brand has the ability to amplify the multitude of voices that make up their organisation. By bringing together a series of videos crowdsourced from your community, you have a unique opportunity to share with the world the true values that drive your brand.
In the wake of a pandemic, businesses of all sizes are discovering that the most powerful stories aren't those conceptualised in a board-room, they are those experienced and shared by the people engaging with their brand. At Seenit, we're proud to be leading the way forward in a new era of corporate storytelling. Through our platform, companies across the globe are creating and sharing impactful stories that we hope will lay the groundwork for positive change.