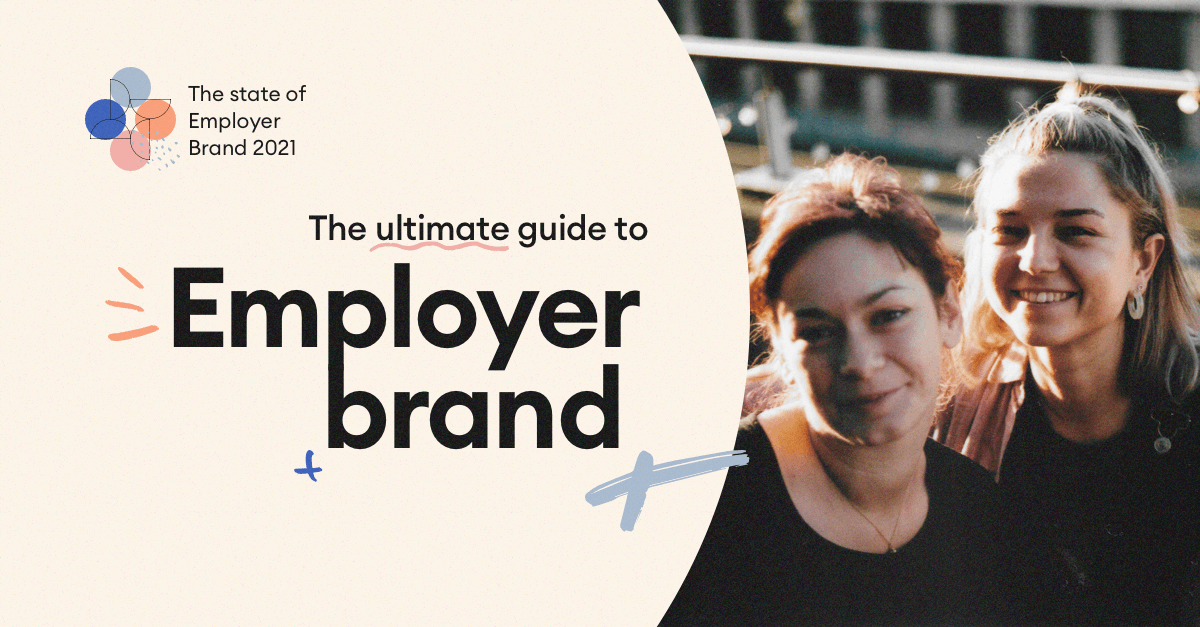 What is Employer Brand?
Employer Brand describes a company's reputation and popularity from a potential employer's perspective. It represents the company ethos, made up of the brand, culture, beliefs, and values the company gives to its employees.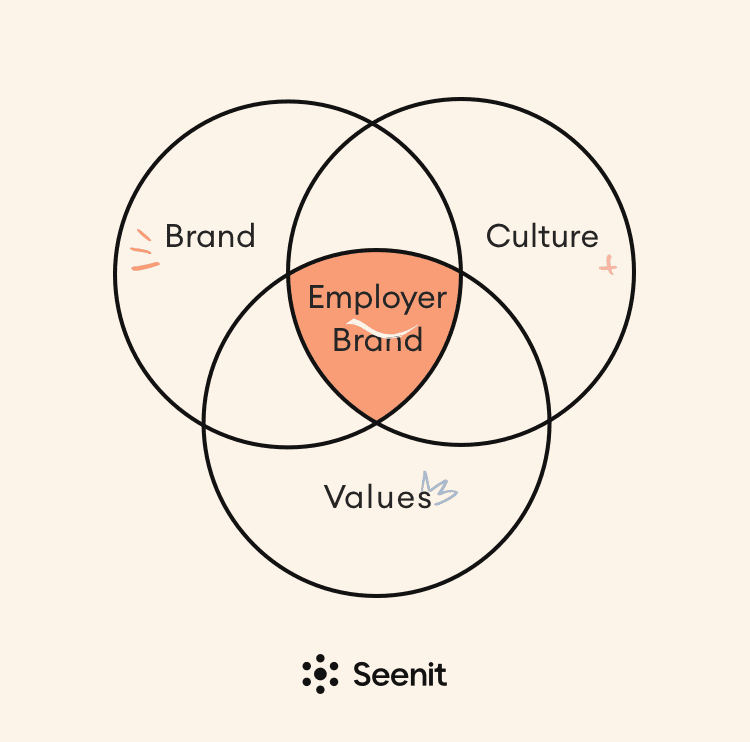 Why is it important?
The state of Employer Brand is changing. Every company and organisation has an Employer Brand, whether they have put effort into it or not. It's what differentiates you in a crowded market, enabling employers to attract, retain, and engage the right people for them. Employer Brand connects every aspect of a role to the organisation's values, policies, and ethical standards. Most importantly, it does this naturally.
When talking about Employer Brand, the word reputation comes to mind. In the world we now live in where everything can be reviewed, criticised, screen-recorded, shared, and praised, reputation is everything. Gone are the days when a higher salary or better perks would be enough to turn an employees head. Nowadays, employees have the power to dig a lot deeper into a company and get a clearer picture of what it would be like to work there before applying for a role.
With the increased costs associated with hiring, potential employees and employers must be a good fit. A weak Employer Brand can impact retention, satisfaction, loyalty, and credibility - which in turn, all hits the bottom line.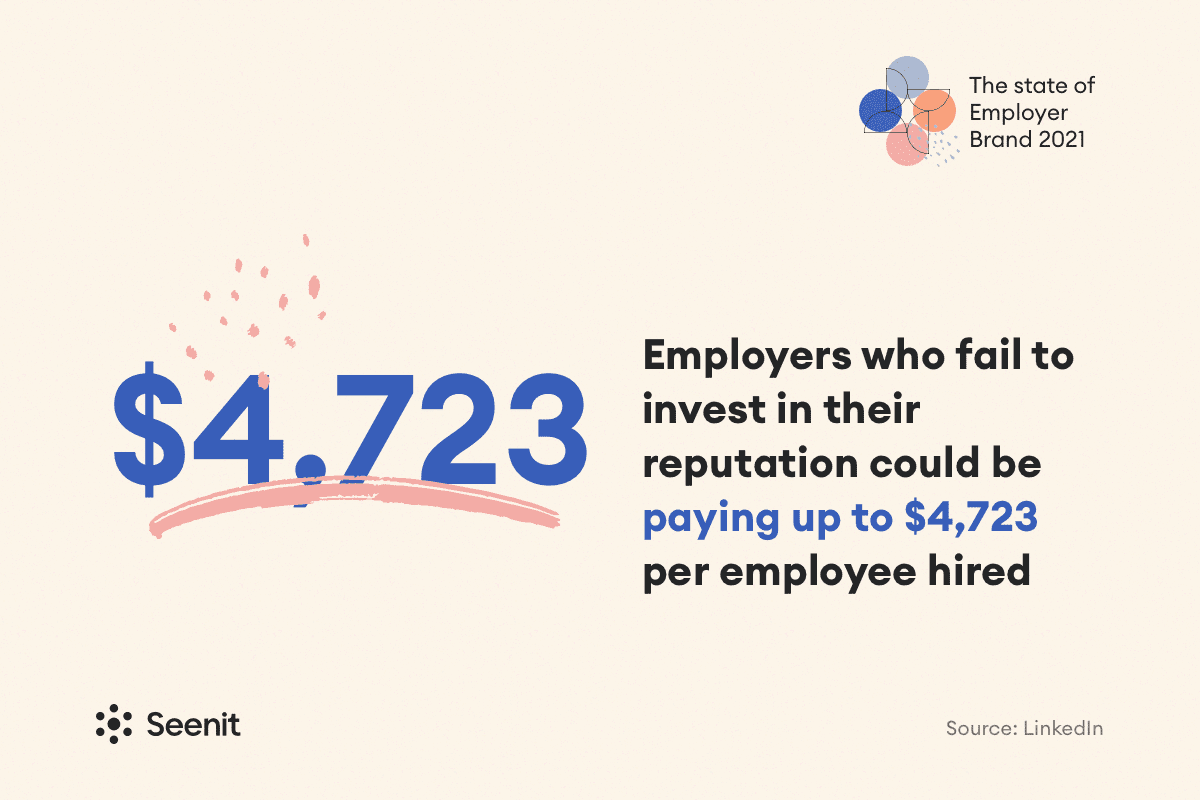 Where does Employer Brand sit?
How you communicate with your employees, engage them, and present the company to the outside world impacts your Employer Brand.
There are no secrets anymore. From setting goals and building morale to employee reviews and the desire to work for your organisation, Employer Brand touches everything in your company.
At every touchpoint across an organisation, Employer Brand is sure to be there. It's something that you should be proud of as an organisation; your unique collective DNA. It's what sets you apart from the competition. It's why an employee should come and work with you.
What can I do to improve the Employer Brand?
There is a trust crisis. A recent report by Edelman Trust showed that employees are 3x more likely to trust employees than CEOs and Leadership. People trust people, and more often than not, people like you when making any decision. This thinking extends beyond the workplace too.
The numbers don't lie. A Salesforce study found that 92% of consumers trust online content from friends, colleagues, and family above all other forms of brand messaging. Youtube product reviews are ubiquitous and becoming increasingly more effective than slick marketing and branded content. As consumers, the trend is shifting; we now search for reviews from people like us instead of messaging from brands.
The same applies to Employer Brand. With review sites like Glassdoor and Vault, people look beyond a company jobs page to make decisions. Companies are having to shift their approach and use their employees to build a strong Employer Brand. Slick images and marketing messaging no longer cut the mustard. People want to hear from other people they can resonate with and trust when they decide their future.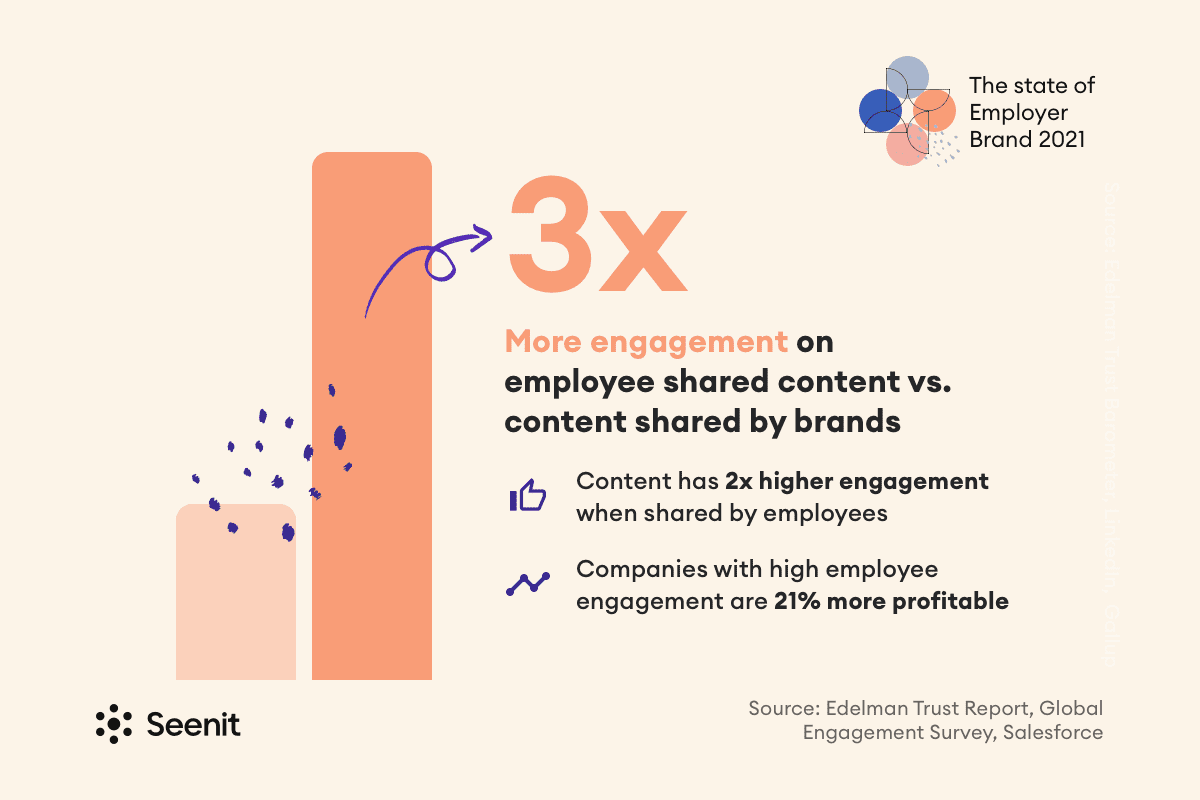 Why you should give your employees a voice
The 'marketing machine' that has traditionally powered corporate messaging is looking increasingly outdated in a world where we are all looking for reassurance. Candidates desire stories and reviews from the people who make up an organisation. Brands realise they must find new ways of demonstrating their human side and bringing their culture to life.
With the amount of time we now spend on our phones, we're are pretty confident about the best practices of creating content on our devices. There are no technical or geographical barriers to producing quality video anymore. With a bit of creativity, companies can capture the essence of their culture and paint a human picture that resonates with prospective employees.
Why retaining is easier than attraction
Companies are developing their employer brands to remain competitive and acquire the best talent. Not only is it essential to attract the best talent, but it's equally important to retain those people. There are many reasons why an employee may leave a company, but disengagement is always up there. Disengaged employees can have a detrimental impact on business and cost organisations over $450 billion per year. This loss affects wages, retraining time, loss of profit, sales, and much more (Conference Board).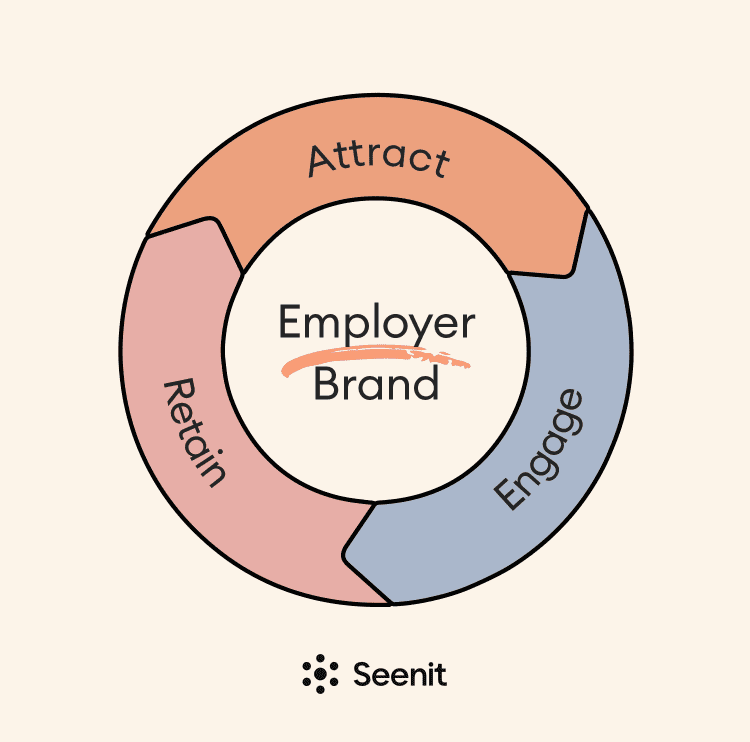 Companies with high employee engagement have seen 17% higher productivity than companies with disengaged employees (Gallup). More than 50% of all organisations globally already have difficulty retaining some of their most valued employee groups (Willis Towers Watson). With stats like these, it's clear why building a strong Employer Brand is crucial to ensure employees remain engaged.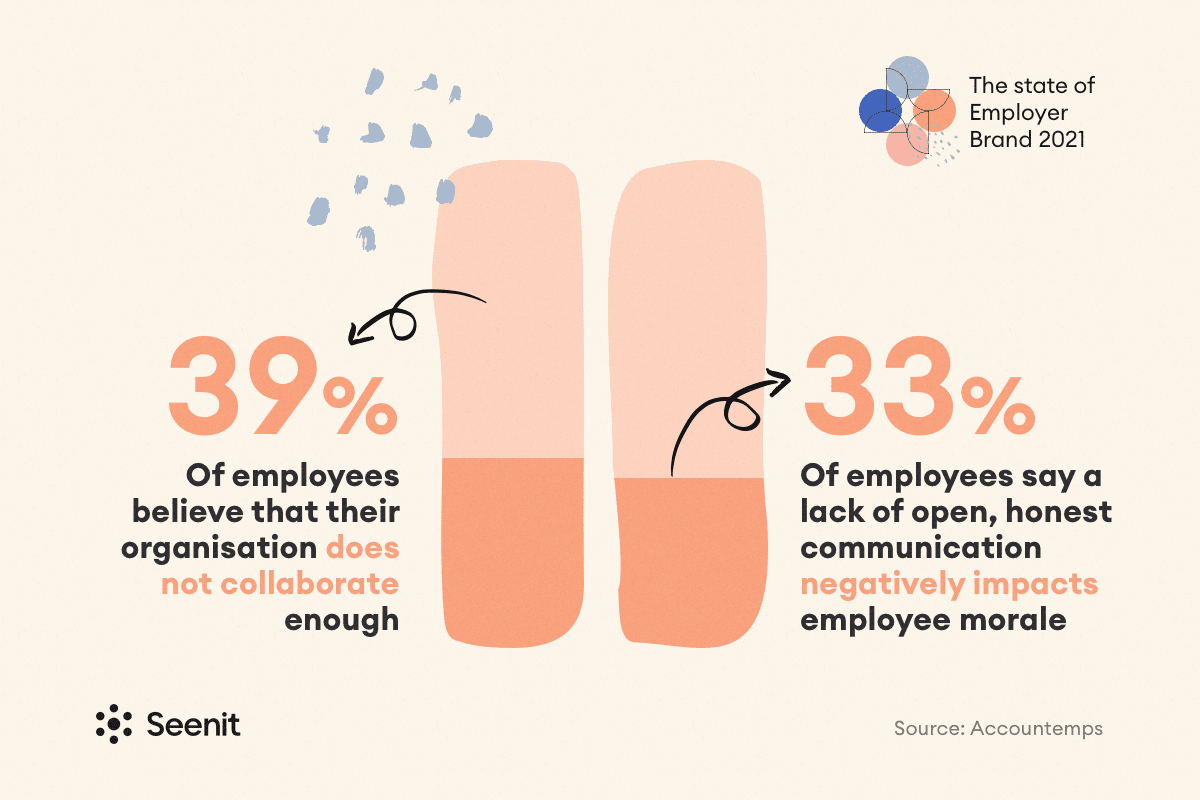 Employer Brand is constantly evolving
Just like zoom and working in your pyjama bottoms, Employer Brand is here to stay. There are no secrets in the online world, and building a solid Employer Brand means you can be one step ahead. It's clear Employer Brand touches everything in your company, from communicating with your employees, setting goals and morale, employee reviews, and the desire to work for your organisation.
Company culture, engagement, diversity and inclusion, and gender gaps continue to rise in importance on job advertisements. Why not show your future and current employees what it's like to work for you rather than just a few sentences explaining it?
If we've taken anything from 2020 and 2021, it's that we never know what's around the corner. We don't know about you, but saving $7.6 million in additional wages (LinkedIn) sounds pretty good to us. You want to find and keep the right people, and a strong Employer Brand is a key to just that.
You already have an Employer Brand, whether you like it or not. So why not make it the best Employer Brand it can be?
From startups to large multinational companies, leaders are responsible for ensuring that enough employee voices are being heard and championed within the business to help with all communications. We know from Google data that 50% of internet users look for videos relating to a product before visiting a store. The same thinking applies to Employer Brand. People want to see what it's like inside a company.
And that's where User-Generated Video comes in.
Employer Brand x User-Generated Video (UGV)
---
We all know UGC, but what about UGV? UGV stands for User-Generated Video, a form of user-generated content produced and shot by the user themselves instead of a professional production team. While UGV has been growing in popularity over the last two decades as social media and video creation software has evolved, the use of UGV in business is still relatively new.
In the digital age, employers can't hide behind marketing messages. Reputations are everything, and slick corporate-style videos won't cut it in communicating your values to wider audiences. They want to hear from employees themselves that their experiences are positive and that the culture is progressive. They crave authentic communications, campaigns that don't feel forced and proof that the culture they may enter is welcoming, passionate, and true to their word.
What better way to achieve this than with user-generated video?
Companies with strong employer brands see 50% more qualified applicants and take 1–2x faster to hire.
A 'day in the life video shot by the people 'on the ground' can make all the difference in shining the spotlight on your internal culture. Equally, leveraging the voices of loyal employees who remain engaged with the company and passionate about their work will be a powerful endorsement for your Employer Brand.
While you can opt for the scripted approach, giving your employees a loose brief and letting them run with it to create unique UGV brings out the quirks, humour and personalities that make your organisational culture what it is.
Blending employer branding and internal communications has many advantages. For one, if employees are involved in making videos, they are much more likely to share the content on social media with their networks. The further your UGV content travels in the digital space, the more your reputation grows, enabling you to attract the best calibre talent in your industry.
The value of UGV is that it's raw and compelling, and can help companies create honest, authentic, employee-led content. Real stories from real people. It brings out the human connection your audience craves and shows first-hand what it's actually like to work at your company.
User-generated video has the potential to create powerful and authentic content, by allowing audiences and contributors to tell their own stories from their perspective.